After a painless border crossing from Colombia, I was in Ecuador! I made haste from the border to Quito, with one important stop: Ecuador's namesake.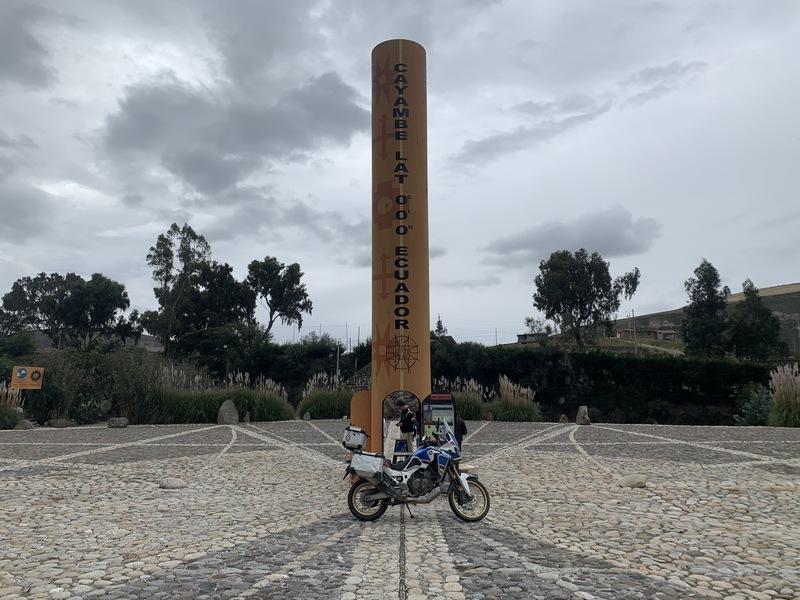 Located along the highway heading south to Quito, the Quitsato Sundial is a pretty neat monument marking the equator. This marks my first time in the southern hemisphere, and I'd say I entered it with style. I'm still getting used to the backwards-flushing toilets, though.
Quito is a relatively demure capital city, clocking in with a modest population of around 2 million, and a respectable elevation of 9,350 feet (2,850 m). It seems like a pretty quiet city. Nice historic center, some quaint museums, healthy hipster scene w/ craft beer to suit. I again met up with Jasper and Hanne, and we hung around the city while Jasper fiddled with his carburetor which was struggling with the altitude.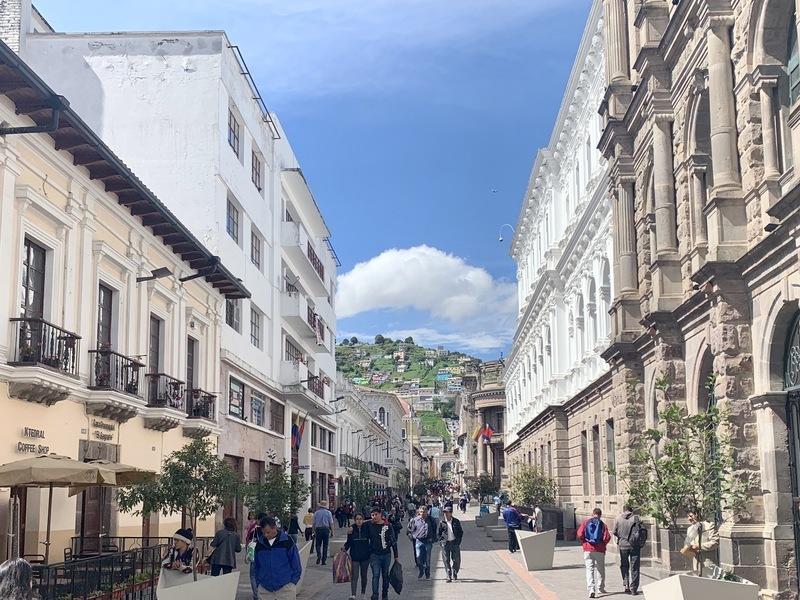 With that sorted, as well as you can expect to get a carburetor on a 32-year-old motorcycle at 10,000 feet sorted, we set off for the Quilotoa loop, a ring of villages broadly encircling a volcano and crater lake of the same name. It's a popular backpacker destination for backpackers to actually backpack, hiking their way from village to village and spending the night in a hostel at each one. We opted for motorcycles, obviously, eschewing the main paved road for some fun dirt along the way.
We spent a couple nights at a pretty swank hostel in Isinliví, then rode on to check out the main attraction. First stop was the village of Quilotoa, which provided a pretty excellent first (and as it would turn out, only) view.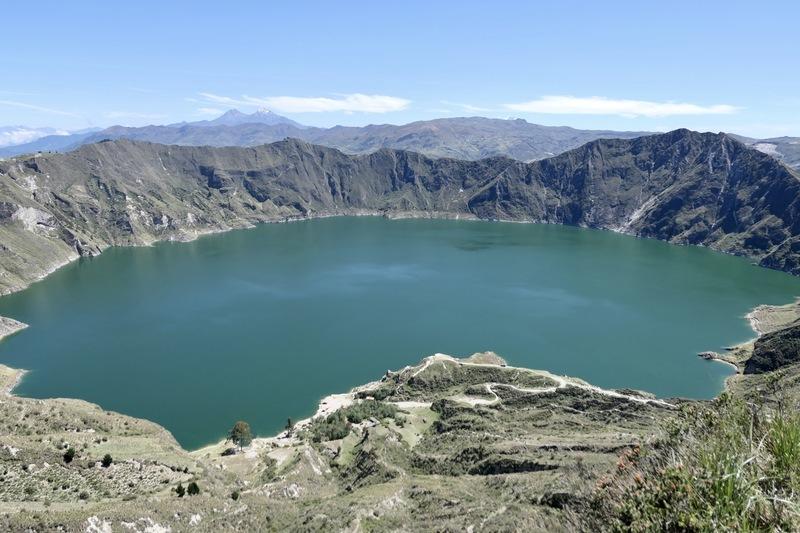 Looking at some maps, we had spied a spot where we could do some wild camping right on the ridge, accessible by a small, steep, sandy dirt road. We set off from the village to check it out. After one particularly sandy patch, we stopped for a moment to catch our breath, but getting back on my motorcycle, I found it unwilling to go. Like, it would start up fine, and rev and all that, but it didn't seem willing to actually move. It became pretty quickly obvious that I had roasted my clutch while manhandling the bike out of the sandy patch.
This was a problem. And a damn shame, stopping us painfully short of the campsite on the ridge. But a problem, being down a tiny road on the far side of a volcano with a sick motorcycle. Luckily, there was enough clutch left that I could limp it back. I just had to be careful to accelerate very slowly, as just a tad too much power and the clutch would slip away quite dramatically with the engine revving way up making me finesse the throttle back until the clutch caught again.
I said a sad goodbye to J&H on the side of the road and limped back to Quito, luckily just a three hour ride away. The next morning I was at a motorcycle shop, primarily a rental shop offering big adventure bikes to tourists, which was nice because their mechanics knew their way around an Africa Twin. The main struggle was finding a set of clutch plates in Quito, because if there weren't any (a not-unlikely scenario), it would be up to me to find some and get them to Ecuador, which I was trying hard not to think about. And very luckily I did not need to, with one of the mechanics eventually tracking down a set after several phone calls. (Cheap it was not: this is how I learned Ecuador has a 120% import tax.) So, one long day at the shop later, I had a new clutch and a motorcycle that would go again.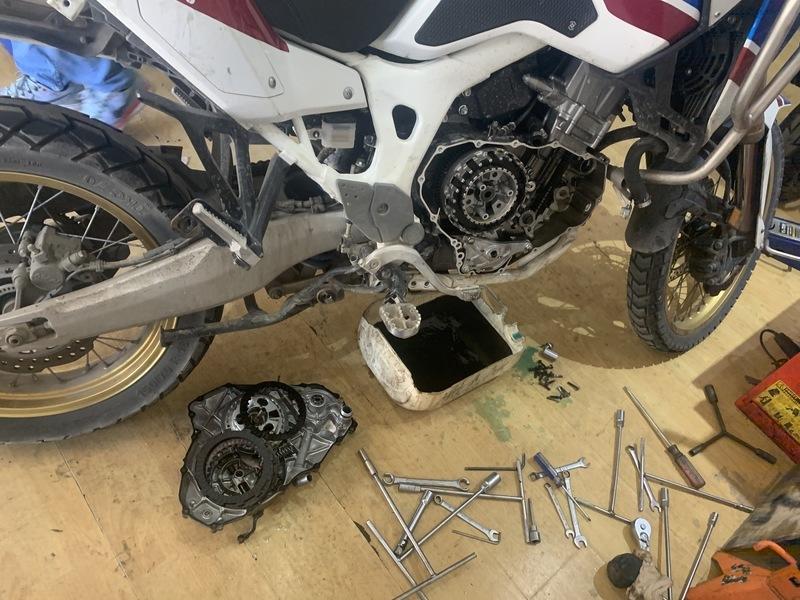 And go it did, halfway back to the hotel, when, stopped at an intersection, I noticed a few wisps of smoke and looked down and saw a large and growing puddle of oil directly underneath my bike.
Generally speaking, when a motorcycle spontaneously pukes out all of its oil, it is a Very Bad Thing. I called up the shop and it was a bit of a tense wait as they came to get me and the bike back to the shop where the mechanic was waiting, having been recalled from dinner. The diagnosis was mercifully benign: a defective seal on the new oil filter they had just installed. A new oil filter, four quarts of oil and one very aggressive test ride later and I was on my way, for good this time.
The next morning I sped back south to Baños to meet back up with J&H. I made it down just in time to join them checking out some nearby waterfalls, followed by dinner in town.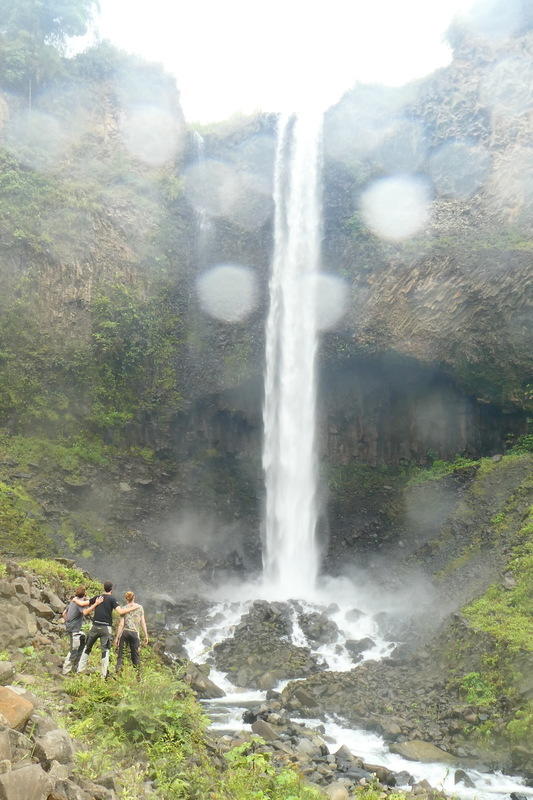 The next morning I got to say a much better goodbye, this time with me needing to pick up the pace and head to Peru, while they hung back in Ecuador for a bit. We hope to rendezvous again.
It's been a short 9 days in Ecuador, but they've been good ones.